Hamburg: More than 3,000 consultations at health kiosks – "Ask me three" campaign has started
The Health Kiosk in Hamburg-Billstedt. Photo: Gesundheit für Billstedt/HornThe healthcare kiosk, with locations in the disadvantaged districts of Billstedt and Horn in Hamburg, has been well-received by the insured.
Since its unveiling in September 2017, more than 3,000 consultations have taken place here, including around 1,500 preliminary consultations, 1,000 follow-up appointments, and 500 brief consultations. The primary objective: to promote the "health competence", or "health literacy", of patients. This will relieve the burden on doctors and, in the longer term, reduce treatment costs for health insurers. The "Gesundheit für Billstedt/Horn UG" (Health for Billstedt/Horn UG) is responsible for the healthcare kiosk and provides many other interventions. The company aims to improve care in both districts by means of a comprehensive, community-based care model. The three major health insurance companies – AOK Rheinland/Hamburg, BARMER and DAK-Gesundheit – are partners in the project. With these companies as partners, around 53,000 insured persons from the two districts are integrated into the care model.
Three questions for your health: Campaign promotes health competence
There is a further project supporting the measures at the kiosk. With a campaign that is being run in the medical practices themselves, Gesundheit für Billstedt/Horn UG also wants to improve the health competence of patients. Centred around the theme of "Three questions for your health", multilingual posters and flyers explain to patients how they can best prepare for their visit to the doctor. The objective behind these posters is to promote the understanding of medical information that comes up in conversation between a doctor and a patient, and to get patients to adhere to their treatment. The campaign is based on the internationally-proven "Ask me three" concept.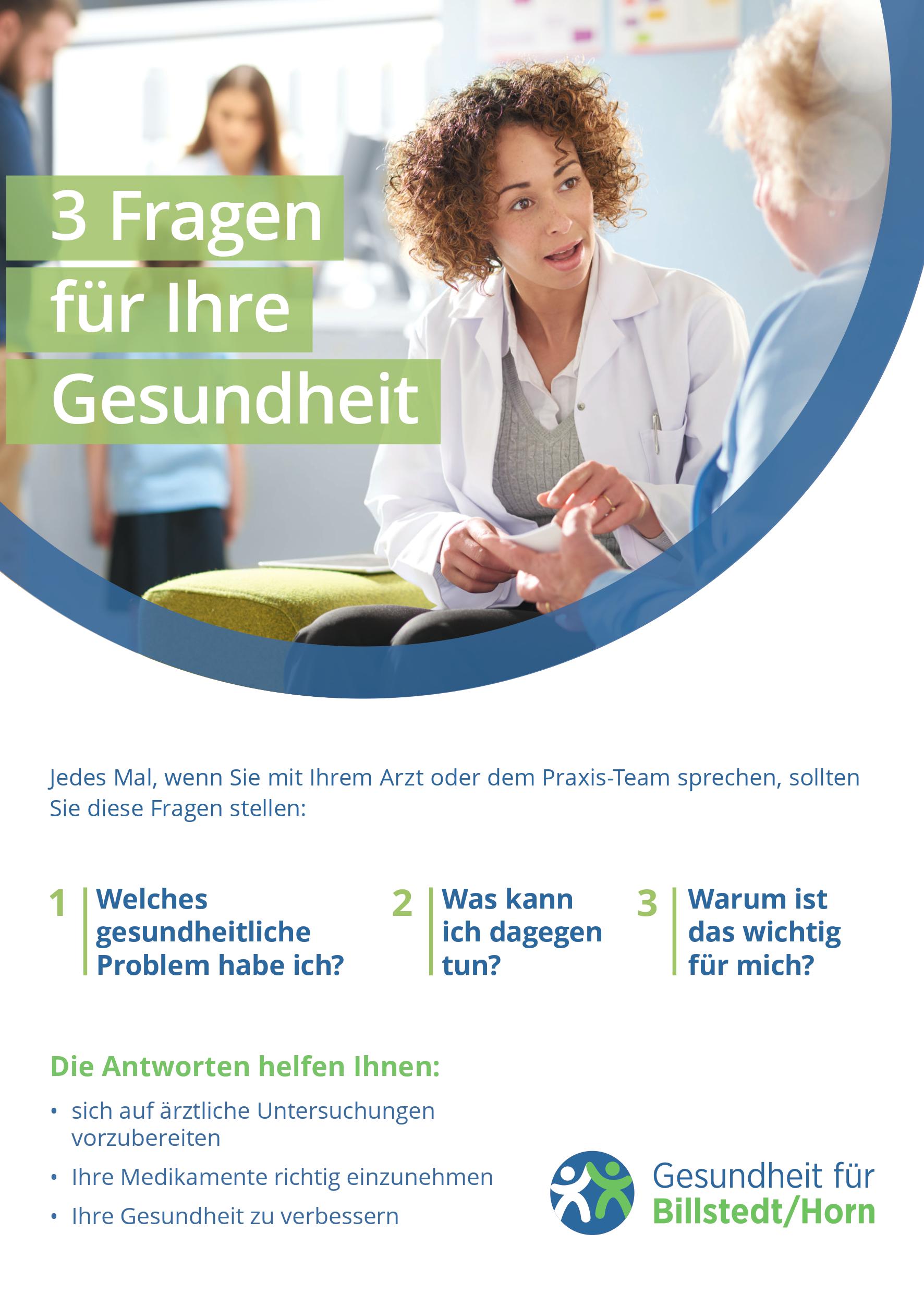 Example of the posters and flyers being used as part of the "Three questions for your health" campaign. Picture: Gesundheit für Billstedt/HornCurrent studies have shown how many people have problems both understanding health-related information and utilising that information for themselves. Those particularly affected are the elderly, people for whom there is a language barrier, and people with a low educational status. Factors such as nervousness or uncertainty when talking to the doctor can also have a negative effect on communication and understanding. This is where Gesundheit für Billstedt/Horn UG comes in, explaining to people in a simple way how they can prepare for the conversation with their doctor, and which three questions they should definitely ask. The participating medical practices will receive individualised practice posters, flyers with a signature, and a button to attach to each doctor's coat. The three questions will be written on these items: "What health problem do I have?", "What can I do about it?", and "Why does this matter to me?" In order to measure the impact of the campaign in a scientific way, it is being evaluated by the Hamburg Center for Health Economics (HCHE) at the University of Hamburg.
Studies show that the "Ask me three" concept has already achieved positive results in other countries. Patients are better informed, more confident, and more competent in their interactions with doctors and the practice team, while the duration of visits has not increased.