Hamburg Project Excites International Foundation of Integrated Care Guests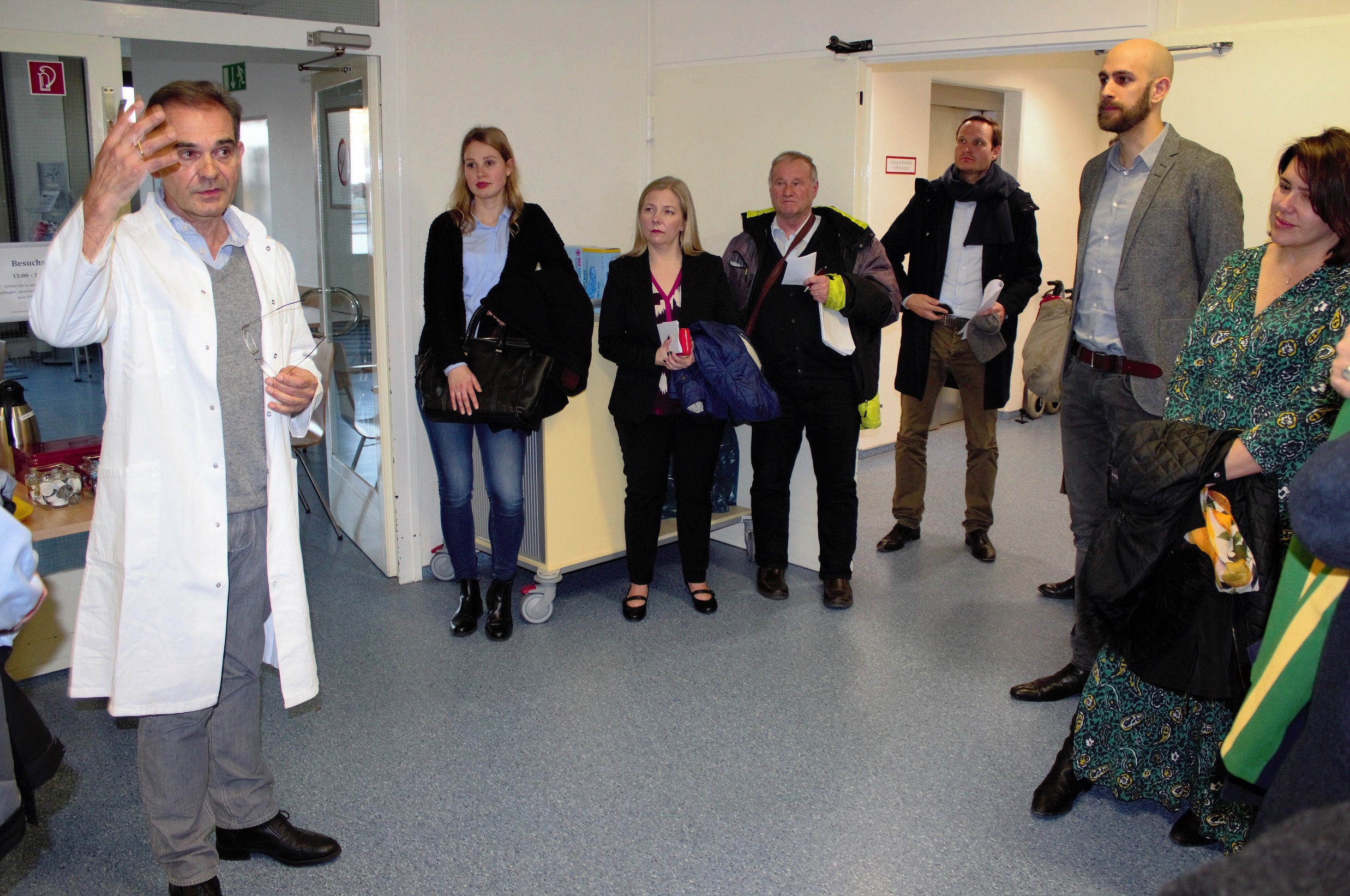 Dr. med. André Ansell (l.) presented the SKH district clinic to the Executive Board of IFIC.
At the beginning of the year, the establishment of an innovative, patient-oriented and inter-sectoral healthcare network in two of Hamburg's disadvantaged suburbs, Billstedt and Horn was launched. The implementation of regional integrated healthcare, based on the OptiMedis model, in a metropolitan, multi-cultural region has since attracted foreign interest.
Together with project manager Alexander Fischer, the members of the Executive Board of the International Foundation of Integrated Care (IFIC) had the opportunity to familiarize themselves with ​​the challenges which lay ahead and with the work already started on site. They were received by Dr Gerd Fass, who had invited them to his orthopaedic, surgical and trauma practice in Mümmelmannsberg (district of Billstedt). The Chairman of the Billstedt / Horn physicians network gave an impressive report on the difficulties encountered in the disadvantaged district and emphasized the positive impact of the project work on improving healthcare for the local population. Subsequently, Dr André Ansell and Maurice Emmerich gave the guests insight into the Stadtteilklinik Hamburg (district clinic in Mümmelmannsberg. The curiosity of the international delegation was triggered by the clinic's international concept of close-to-home healthcare, with an extended range of short-term care combined with sociocultural expertise.
The experts were enthusiastic about the commitment of the doctors, OptiMedis AG and their partners to the common goal, improved healthcare for the inhabitants of Billstedt and Horn. The approach to improve access to community care by integrating a "health kiosk" into the service network was seen as a model for many other disadvantaged areas – even beyond Germany's borders.
For further information about the Hamburg project please click here.